We operate two licensed facilities that provide 24-hour care to our residents; one in False Creek, Vancouver and one in Steveston, Richmond. Our False Creek residence opened in 1978 and was funded by the City of Vancouver, the Province of British Columbia and the generosity of several families. As the society expanded, whilst sticking to our mandate of providing care and independent-oriented activities to our residents, we were able to open our Steveston residence in 2001.
False Creek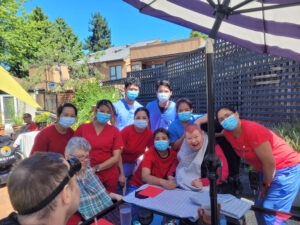 Our False Creek residence houses 24 occupants, all of whom require 24-hour assistance. The False Creek residence uses a shared care model, which provides the residents with professional meal preparation and a full communal recreation lounge.
Each resident enjoys a private room and shares a bathroom with their neighbour. The building has a large dining room, full-service kitchen, laundry facilities and a computer lounge. Porter's Place, found on the second floor, is an accessible kitchen used for teaching and activities. Exercise equipment is also available for use with the physiotherapist and kinesiologist when needed. The recreation lounge is equipped with a pool table, a variety of games, a television and space for the residents to relax.
The Location
The False Creek residence provides our residents with an ideal central location to access the best of Vancouver. Just set back from the seawall, our proximity to the water provides both mental and physical health benefits. Our residents enjoy leisurely walks around the seawall, strolls over to Granville Island and a close proximity to all major bus routes into the city centre.
Steveston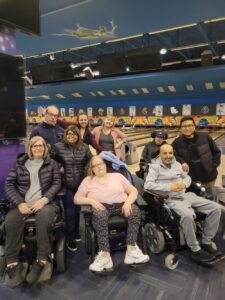 The Steveston residence is a 20-unit apartment building located in the heart of the Steveston community of Richmond. The residence houses 10 inhabitants, each occupying one wheelchair-accessible unit with their own patio or backyard space. The residents enjoy a dining room that doubles as a communal space and a large outdoor patio for socializing and relaxing.
The 24-hour care model at Steveston includes a licensed practical nursing care aides, a cook for meal preparation, recreation therapist and a volunteer coordinator. The residents have access to other health services including a visiting physiotherapist, occupational therapist and a dietician. The residence also contains 10 two and three bedroom-units for Richmond community families.
The Location
The residence sits close-by to many of Steveston's main attractions. Steveston village, a popular heritage town and active fishing port, boasts an array of local shops, eateries and cafes for the tenants to enjoy day-to-day. The nearby Gary Point park, a 75-acre natural park sitting on the mouth of the Fraser River, offers a serene space for our tenants to enjoy the natural environment.
The Steveston residence sits within a quiet residential neighbourhood, close to grocery and drug stores, and is on a major bus route that connects to Vancouver's SkyTrain, allowing tenants to easily travel into downtown Vancouver.
DONATE TODAY
Your donation will have an immediate effect on the community that we serve. No matter the amount, we couldn't do what we do without your timely partnership.