CREATING COMMUMITY EMPOWERING INDEPENDENCE
Since 1989, RILS has provided residential housing and supportive care to adults with disabilities to ensure that they live the most fulfilling, independent lives as possible.
DONATE TODAY
Donating is one of the most powerful ways you can make a difference for our community. No matter the amount, your valued support will make an immediate effect to the impact on the lives of our residents
Volunteering
We couldn't offer the same level of opportunity or support to our residents without the help of volunteers. Become a volunteer with us today and experience the difference you make first-hand.
Residences
Our False Creek and Steveston Residences are the hubs of our community, providing 24-hour supportive care to our residents within a home-like environment.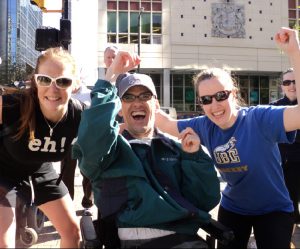 ABOUT US
The Residences for Independent Living Society (RILS) is a non-profit Society with charitable status providing residential living for adults with disabilities. The Society promotes community living opportunities with semi-independent rooms and apartments, 24-hour healthcare and supportive programs. Through our philosophy of care, we provide the support needed for independent-oriented activities and life-enhancing experiences.